Ready for cutting Vinyl flooring & Wallcovering 
We are committed with the new generation of passive houses, our main focus is to cut  the different kinds of materials  which covers, protect and aisle houses from environment. When we speak about roofing systems we are able to slit TPO which is Thermoplastic Polyolefin is a single-ply roofing membrane that is one of the fastest-growing commercial roofing systems on the market.
TPO roofing systems are made up of a single layer of synthetics and reinforcing scrim that can be used to cover flat roofs. Another material that we usually cut with our latests Roll cutters or roll slitters is  EPDM EPDM is an extremely durable synthetic rubber roofing membrane  (ethylene propylene diene terpolymer) widely used in low-slope buildings in the United States and worldwide. Its two primary ingredients, ethylene and propylene, are derived from oil and natural gas.
EPDM is available in both black and white, and is sold a broad variety of widths, ranging from 7.5 feet to fifty feet, and in two thicknesses, 45 and 60 mils. EPDM can be installed either fully adhered, mechanically attached or ballasted, with the seams of the roofing system sealed with liquid adhesives or specially formulated tape.
We slit most of the flooring solutions in the market, we started cutting Rolls of Carpets which is made of rom sturdy and durable yarns of polypropylene, polyamide, polyester and solution dyed nylon. There are different kinds of carpets, for residential market which are made of PP (polypropylene), PA (polyamide), Solution Dyed Nylon and PES (polyester).   Needle felt  which is used for residential and comercial projects, exhibition carpet and automotive floor Coverings.
Our machines are also used for roll slitting Rolls of turf Grass is a surface of synthetic fibers made to look like natural grass. It is most often used in arenas for sports that were originally or are normally played on grass. However, it is now being used on residential lawns and commercial applications as well.
Vinyl is  one of our main focus when we speak about roll cutting machines, this material is easy to slit with our machinery, no melted surfaces, clean and accurate cuts, no matter if the Roll are  4m or  5m we make machines up to 6m wide. TOP40 is mostly used for cutting  vinyl carpets, parquet and laminate floorings, we are Specialists in cutting Rolls of such materials.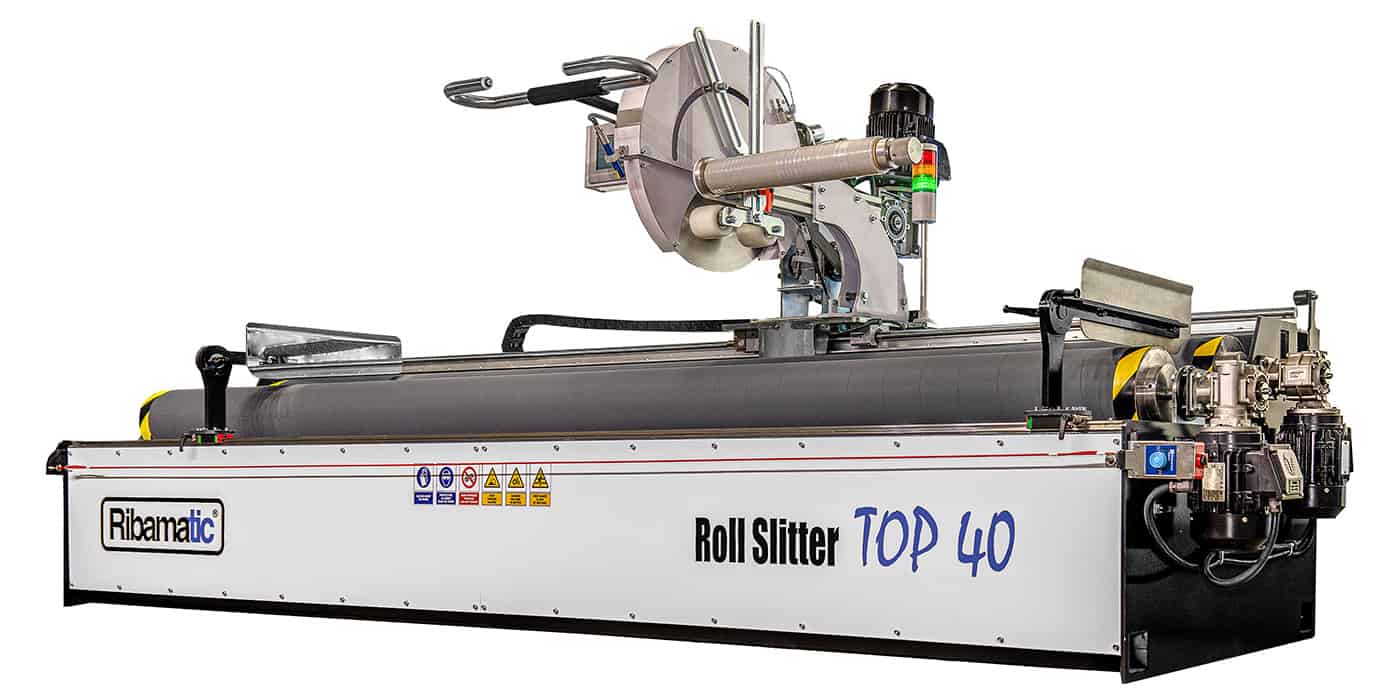 Roll slitter TOP40
The quickest & most reliable roll slitting machine.